About Us
Welcome to our Ayurvedic center nestled in the tranquil beauty of Trivandrum, Kerala. Immerse yourself in the ancient healing practices of Ayurveda, where time-tested therapies await to restore balance and vitality to your life. Amidst Kerala's picturesque landscapes, our center offers a haven for rejuvenation, personalized treatment plans, and experienced practitioners who will guide you on a transformative journey of holistic well-being.
Embrace the wisdom of Ayurveda as it harmonizes your mind, body, and spirit. With a focus on natural healing, our therapies and remedies are tailored to your specific needs, ensuring that you receive the utmost care and attention. Reconnect with your inner self, revitalize your senses, and experience authentic Ayurvedic treatments that will leave you feeling rejuvenated, restored, and ready to embrace a life of wellness.
The Package includes;
A/C and Non A/C Accommodation,
Ayurveda Treatment (Almost 1.30 to 2 hrs Every Day, Like Massage. Kizhi, Dhara etc)
Ayurvedic Vegiterian Full Board Meals
Consultation
Medicines During the Treatment
PeriodPick Up and Drop, Kochi Airport ( Only for those who made booking 14 or more days Ayurveda Treatment package)
Additional may charged for:
Laundry services.
Lab tests or X-ray,Scanning etc.(if needed)
Taxi services (other than airport transferfers Trivandrum).
Take away medicines.
The package starts from:
₹5000/ Day per person
Backwater cruise on country boat
You can enjoy the pleasure of Backwater cruising on traditional country boat and experience the enthralling beauty of Kerala's backwaters.
Kanyakumari (Cape Comorin)
Kanyakumari is located at the southernmost tip of peninsular India. It is the place where the waters of the Bay of Bengal, the Indian Ocean and the Arabian Sea meet. There are various tourist attractions in Kanyakumari.
Padmanabhapuram Palace
A magnificent wooden palace of the 16th century, Padmanabhapuram Palace lies at the land's end of mainland India. The antique interiors are replete with intricate rosewood carvings and sculptured decor.
The Napier Museum
he Napier museum and art gallery are situated in the Napier Museum compound at the center of the city. The Napier Museum is a 19th century structure, built in the Indo-Saracenic style.
Sri Padmanabhaswamy Temple
Thiruvananthapuram's most Sacred Sri Padmanabha Swamy temple is dedicated to Lord Vishnu. The temple is a blend of the Kerala and Dravidian style of architecture.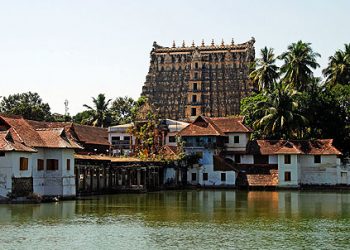 Sree Chitra Art Gallery
Sree Chitra Art Gallery is located near to the Museum. The art gallery was established in 1935. This is a must see gallery for art lovers. Paintings of famous artists like Raja Ravi Varma, K.C.S. Panicker, Rorich can be seen here.
Veli Tourist Village
Veli Tourist village on the other side of Trivandrum city is very popular with tourists. As you enter the Veli tourist village, there is park with couple of artificial ponds and huge fish in dirty murky water but it doesn't seems to matter much.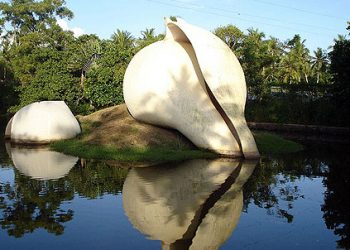 Ponmudi
Name Ponmudi, a hill station so close to the sea, in Malayalam means golden crown.On the way to Ponmudi, the thick tropical forest greets one at the foot of the Ponmudi hill range. The road passes under a canopy of thickly matted foliage.
Kovalam
Kovalam, known as the "Paradise of the South" is just 16 kms away from Trivandrum City. The major attractions of the crescent-shaped beach are the light house beach, fresh grilled seafood items such as lobster, king prawns and kalamari.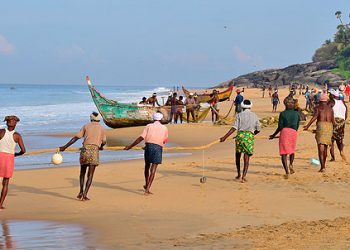 Chowara Beach
Chowara, a fishing hamlet near to Kovalam has many picturesque spots. The Chowara Ayyappa Temple atop a hill overlooks the Chowara beach and offers an amazing view of the beach below.
Neyyar Dam
Neyyar dam is a dam in Thiruvananthapuram district of Kerala, South India, located on the foot of the Western Ghats about 30km from Trivandrum. It was established in 1958 and is a popular picnic spot.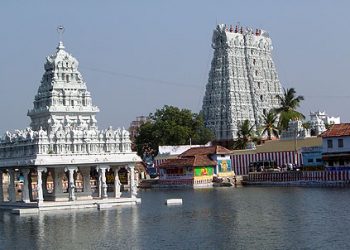 Suchindram Temple
Suchindram Temple is situated at a distance of 13 km northwest from Kanya-kumari. Suchindram Temple has a large white coloured entrance known as `gopuram`, which is 40 meter in height.